SO excited to host Rent the Runway, Amazon,Stitch Fix and Target as affiliates! if you click on any of the links I get a small kudos if you happen to purchase or sign up for anything on their sites. Thanks for reading!
My Rent the Runway Review
Yay! I am so so excited to share with you my review of my first Rent the Runway experience!
First, if you follow me on IG (which you probably do cause that is where I post the most) then you saw this
One of the hardest things for me is to look at photos of me in the past (left) and see photos of me now. Sometimes the difficult thing for me during the day is to find clothes that fit and look decent in public I know I have total control over weight loss but its hard in a way that's not easy to describe. It's hard to stay motivated when you can't even wear stretchy pants cause they don't stretch around your legs. So part of my blog and posting here is to share with you my challenges and triumphs as I work back down to my goal weight. I want to make sure that I can offer a real deal story so that whomever is needing someone to relate to who gets it, I can be there. So my journey is going to consist of ways to stay confident and empowered through new clothing options, make up, food, and more.
and an inside look of my likes and dislikes of being fat. My website and posts aren't all about weight loss- so I don't want to be pigeon holed into another "statistic" I just want to be able to help and share where I feel it will make a difference. 
With that said, my first phase into my weight loss adventure is to make sure I can feel good in clothes while I am trying to lose the weight. And believe me, I don't want to spend more than I have to on clothes that I won't keep- I have so many skinny clothes stored away just waiting to feel my skin again (uhm..) So when Rent the Runway started showing up on my facebook feeds all the time (way to go marketing person) I finally looked into it. I love fashion. and when I was thinner, I would like to think I had a good sense of style. But it was easy to find clothes when your a size 6. Now I am a size 16 with a tummy that went through two c-sections. so I have the belly flop thing and the weight thing. UGH!
Last week I posted a pretty neat and exclusive code I could give out to my followers. It was a 3 for 1 deal at Rent the Runway. So, I myself, took advantage of it too. The idea was to find a party dress, a work party dress and a casual dress that someone my size will look and feel comfortable and beautiful in. and I think I found the right styles. When you hit the filters and look for your dress size, for me, I was pleasantly surprised by how many they had in my size. In your head you think – designer dresses only go up to size 8- but nope I was happy with the selection I had. So that's part of my review GOOD SELECTION. Also, you need to order it so that your stuff arrives 1 or 2 days before your event- you have a 4 day or 8 day rental and I chose 4 on all these, and know when your fed ex guy comes. Mine comes between 2-4. When your bag arrives, it's a real garment bag, and you open it up and its sitting in a plastic bag like it came straight from the dry cleaners. And then when you return it, you swap the shipping label and zip up the bag and lock it with this little plastic lock thing they give you and drop it off at a ups store. I am bugged cause it says UPS DROP BOX in their email to remind you to return it, but those drop boxes are only accepting packages with a certain dimensions and the garment bags are way big. Also, they want it to be back by noon to ups so doing a drop box can't track that time anyway. They need to redo their return wording. Okay on to the good stuff people! The dresses!!
So here is my party dress- 
 a Badgley Mishcka dress. YOU GUYS!!  a Badgley Mischka Dress in a size 16!! seriously. I died. died. and here is how it looked on me
So my boobs never really got bigger or the dress is supposed to be really way more low cut than actually advertised, so I had to pin it. If I had to do it again, I'd probably use body tape along the straps and the cleavage area. But it was really comfortable, and I felt really appropriate in it at public park . haha. But seriously, for a 30 dollar rental and $5 insurance, this is one of those dresses that is a one time thing for a one time event, for that one time notice me moment. PERFECT!
The second dress was a Marina Rinaldi Dress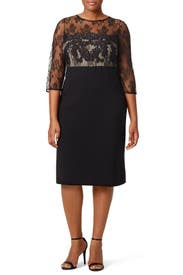 So look at the length on her, and then look at the length on me…
I loved the lace sleeves, they weren't too tight, and the front part was okay, I wasn't a huge fan of it, maybe on the right person. I would go a size smaller on this for sure but it was comfortable and it's so pretty for a work party. again, $30.
and the last one was really fun by Slate & Willow 
This dress was way to big on me, and the boob part was again way huge. So I didn't intend on covering this up with a denim vest and adding a belt, but I think the overall look was great. and SUPER comfortable!! I loved the dot detail a ton!
I didn't wear a dress slip under any of these dresses, they had great lining. and I wore spanx underwear. the kind that go up to your under boob. and I wore a strapless push up. cause…mom boobs. My shoes are Nine West and the vest is Mossimo from Target.
Please give a huge applause to my photographer, Emily Smith , ES Photography  She does the cutest mini sessions at a super great rate!!
and my make up was done by Renae Robinson, follow her on insta @rockthelookwithrenae
So here is their BLACK FRIDAY DEAL!! EEP! and then check back on Monday for the Cyber Monday deal!
If you have some company parties coming up,  reserve your outfits now!
and of course, hello Target Black Friday…no intro needed
So Rent the Runway is now offering a monthly rental program for $139   I am not sure if that's a price point I am yet comfortable with. I just signed up for Stitch Fix, in the spirit of continuing confidence and empowerment while losing weight, so that I can get something new occasionally but if I don't like it I don't have to buy it, and I don't have to go out shopping either. My first box comes December 3rd and I will let you know how that goes!